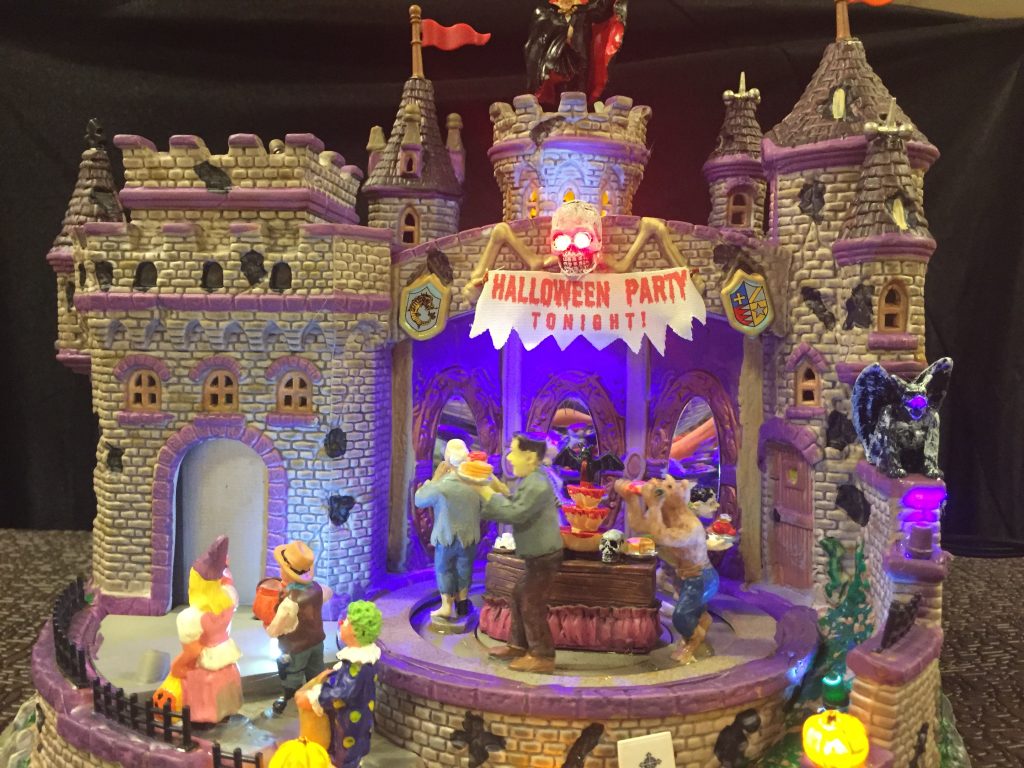 Ladies and gentlemen, boys and Ghouls! Make your way up the stairs; you're welcome to the scariest Halloween Party you'll ever attend! Today we will be reviewing the 2008 Lemax Spooky Town Halloween Party! Possibly one of the coolest Lemax pieces out there!
Product Line: Lemax Spooky Town. Introduced in 2008.
Price: 71.99- EHobbyTools.com
Animation: Yes, Monsters circle around a dinner table as a ghost with a party hat pops out of the roof of the building. Greeting the guest is Count Dracula, which a door rises and he enters through it.
Sounds: Yes- Music plays as the Vampire welcomes the guest with a welcoming statement, "Welcome to the Halloween Party! BYOB, Bring your own blood!" With many other sounds coming from the guests!
Lights: Yes – The lighting on this castle is extraordinary, The inside of the castle lights up, glowing purple lights illuminate the dancers as they circle around the table.
Let's start out with sizing of this building; It's pretty big! If you're a beginning collector of Lemax, or don't know where to start, I suggest getting this one, this piece can stand alone for its creep factor, also being quite cute. It's not the scariest Lemax piece, but if you're going with a carnival theme, this item is a great addition.
The construction is very well done, everything seems very sturdy, I've own this piece for years, never a broken or chipped piece.
Combine this piece with anything, really. The coloring of the building, and the beautiful shade of purple on it will really pop out, highly suggested!