A couple months ago we posted that Lemax had announced their 2016 Spooky Town lineup, but that was missing what's annually their most important thing- the Michael's exclusives. Well, luckily for us they just released that information. You can click this link to check them out on Lemax's site.
And what a year of releases it is! 2016 is shaping up to be one of the best in recent times. Let's have a look at the buildings just announced that you'll only be able to get from Michael's stores this fall.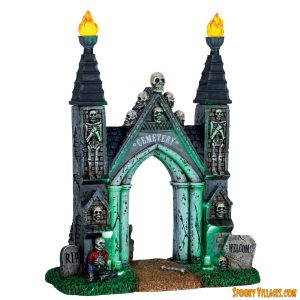 Cemetary Gates
The lit cemetary gates look like a great addition to a graveyard, haunted house, and/or castle scene. The flames also presumably light up. Very cool accessory!
Trick or Treat House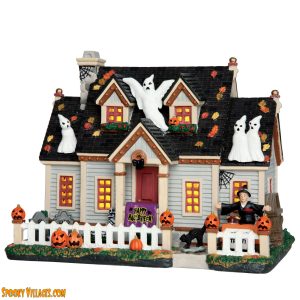 Traditional Halloween houses are one of the most popular themes for mini villaging, so I'd imagine the Trick or Treat House will be finding its way into many collections this fall. What this house may lack in bells & whistles, it makes up for in atmosphere! It looks like a very well decorated house that you'd see in your neighborhood.
Creepy Doll Shop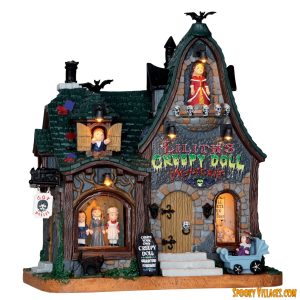 Now this is an underutilized theme! Ever since I snuck a late night viewing of Trilogy of Terror in as a child, dolls have creeped me out. This piece gives off a "Child's Play" vibe and has a great art style. TheMadChem tells me that this idea was actually born out of the contest that gave way to last year's Banshee's Boo-B Traps as a runner-up.
Zombie Plane Rides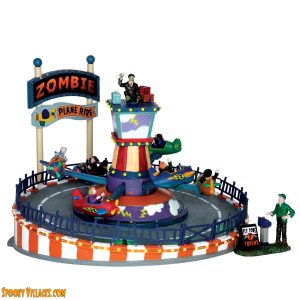 Now we are into the heavy hitters. Carnival pieces are loved by many, and so there is already a lot of buzz around Zombie Plane Rides. Mimicking the classic ride found in many amusement parks (whether planes, rockets, or flying elephants), the airplanes rotate and move up and down. Get the 50% off Michael's coupons at the ready!
Ghostly Manor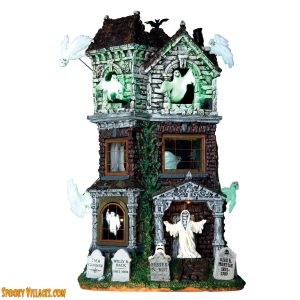 This looks to be my favorite village building released this year! It's heavily inspired by and shares many of the features of Last House on the Left, which is fine considering that is one of the best Lemax pieces (IMO). The flying ghosts rotate around the house and inside the windows you can see spooks moving past the windows. This will definitely be the first purchase I make this season.
So what does everything else think about the 2016 offerings? I think this is one heck of a line-up and is the best in several years.