Greeting folks, Doug here. Here is a list of the Top 10 Lemax Spooky Town Buildings of All Time, as voted on by many of you!
Before we get into the countdown, here is how the process worked. Last summer, on the "I Love Lemax Spooky Town" Facebook group (join if you haven't already, we have over 2,000 members!), I announced that I would be putting together a list of the Top 10 Spooky Town Buildings of All Time, but it required your help. I created a sticky post and gave everyone an entire month to nominate their favorite building and also share why you loved it. Each building could only be nominated once. Once the dust settled, 27 buildings were in the running.
I then made this video on my YouTube channel announcing the contest and created a poll on this website for all to vote in during the entire month of August. A person was only allowed to vote once (i policed this by using one vote per IP address), but they could select up to 3 buildings. Hundreds of votes were cast!
I wound up getting very busy in the fall and therefore didn't release the countdown when I originally wanted to (last October), so apologies for that. I had also planned on doing a video, but I decided that a written article works better…so here we are. Thanks to everyone for taking part in this!
Ok, with all of that out of the way, here are the Top 10 Lemax Spooky Town Buildings of All Time, as chosen by MANY of you!
---
#10 – Dead as a Doornail Morgue (2008)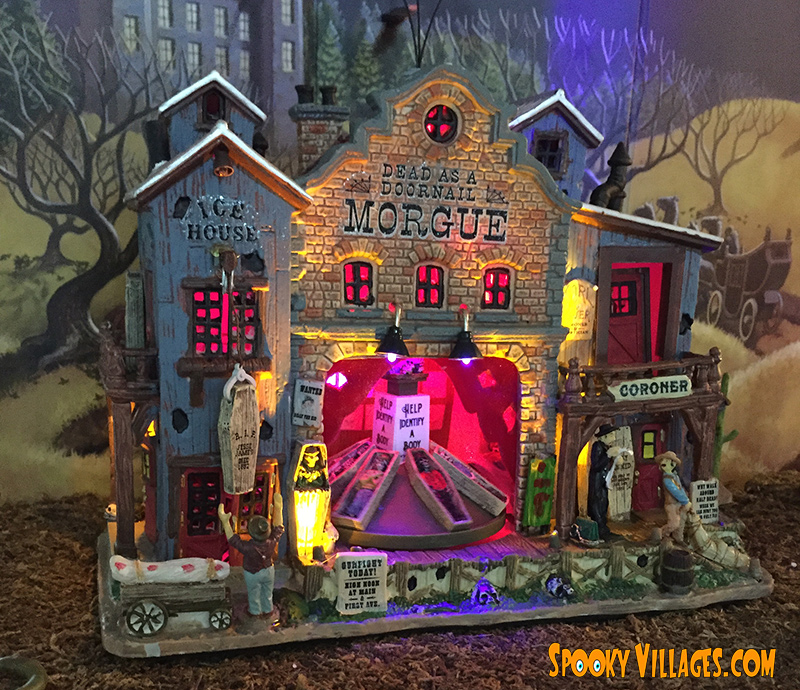 Starting off our list is Dead as a Doornail Morgue. This is part of the Wild West series of Spooky Town buildings and I'd argue that it's the star of the line. It's GIGANTIC, with loads of lighting and animation. Sadly, I wound up selling the one I had in a collection downsizing sale, which was before I started doing video reviews. If you are looking to get into the old west theme, this is the building to start with, IMO.   Here is video of it in action from the Lemax YouTube Page.
---
#9 – Wheel of Horror (2010)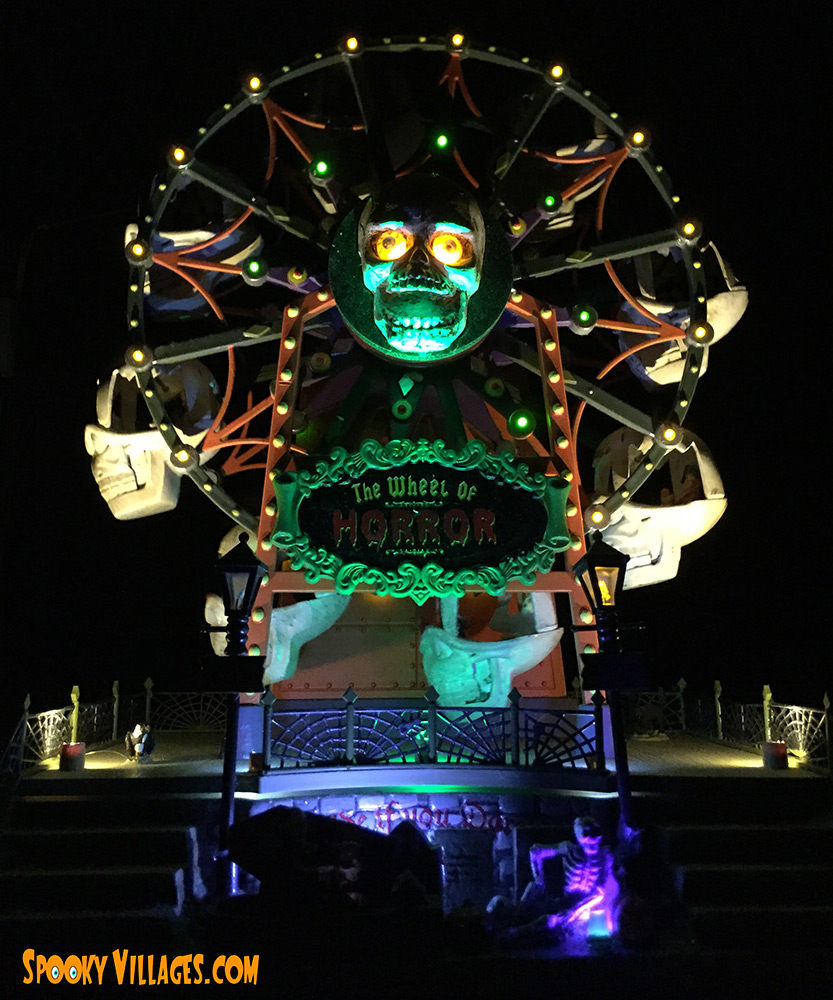 Coming in at number 9 is the The Wheel of Horror. This long retired and hard-to-come-by haunted Ferris Wheel is the star of many a carnival displays. The skull at the center of the wheel combine with spectacular lighting and spooky gondolas to make this a personal favorite of many. It's become very hard (and expensive!) to find this piece, but if you can, it's absolutely worth it. Here is a link to my video review.
---
#8 – Last House on the Left (2013)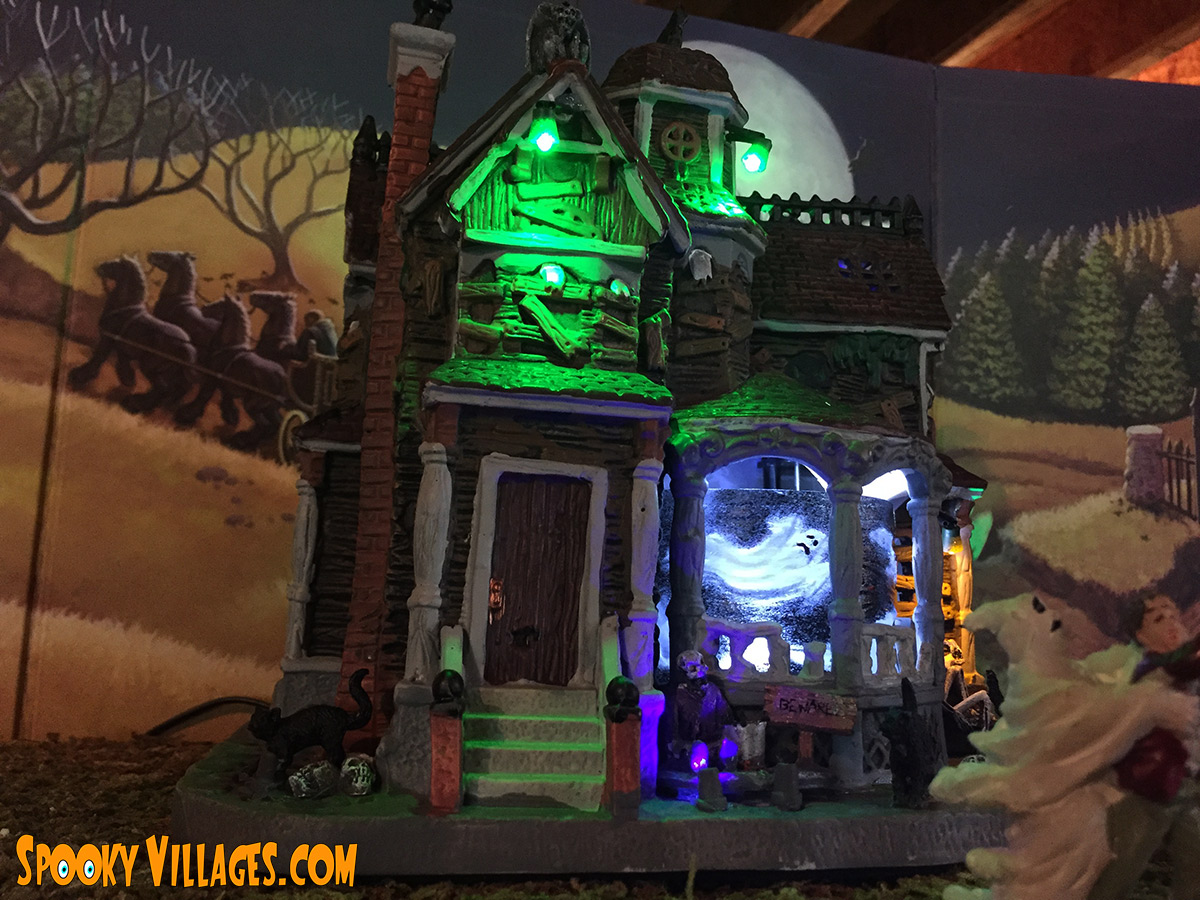 #8 on the list sees us taking a trip to the Last House on the Left. This is a spectacular example of a classic "haunted house" that Lemax turned up to 11 with sound, lighting and animation. I'm a big fan of this piece, so much so that it was one of the three that I selected when placing my own vote. It belongs in every scary neighborhood display! Here is my video review.
---
#7 – Isle of Doom Lighthouse (2004)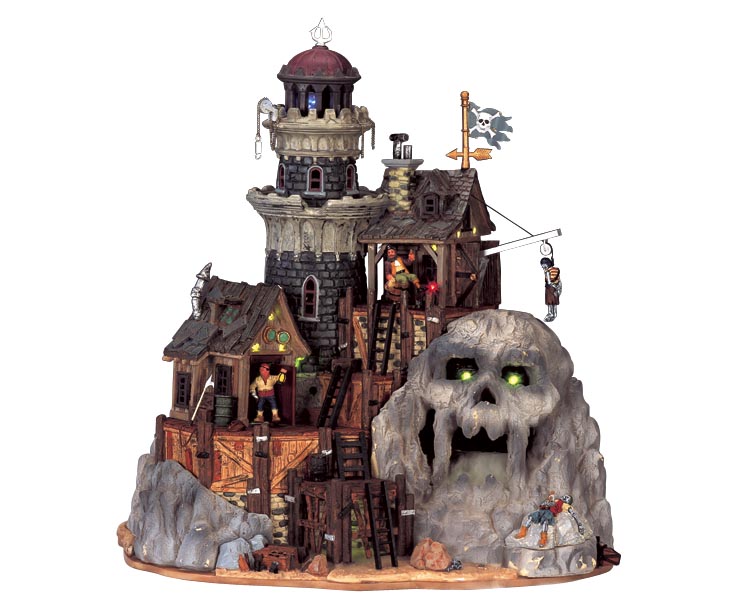 Yarrr, thar be pirates at the #7 spot! The Isle of Doom Lighthouse was released during a year that many feel was the best ever for Spooky Town, 2004. This gigantic pirate hide-out is chock full of detail and actually features a working fog machine on some earlier models! I owned this piece for a brief period several years back and severely regret selling it. One day I'll track another down! Please check-out this excellent video done by my friend Ryan @ Ryan's Video Projects which showcases the Isle of Doom in all its glory.
---
#6 – Monster's Ball (2007)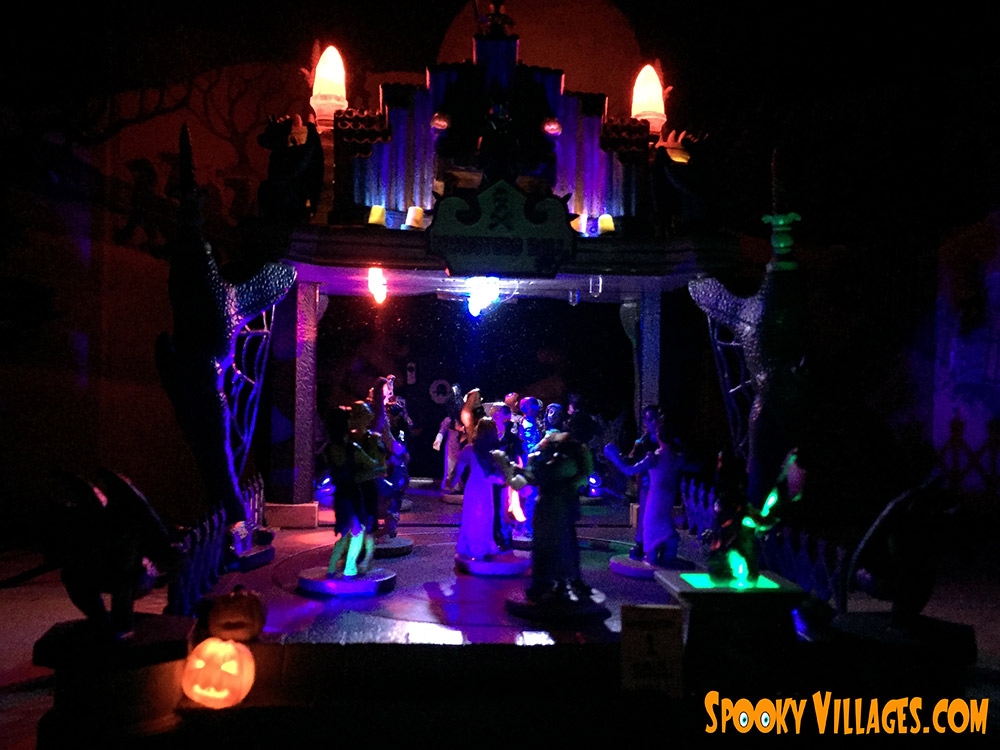 All of the most famous monsters are having a ball, and you're invited to #6 on the list! I knew that this building would make the top 10, given how many people I personally know that think Monster's Ball is the greatest piece of ST ever created, but I'm shocked that it isn't higher! Hey, dems da breaks – it has tough competition here. This piece is themed to that of a crazy ballroom dance, featuring many classic monsters. Dracula, the Invisible Man, Frankenstein's Monster (and bride!)…they're all here. They rotate on a dance floor to the tune of the spooky organist who is located above. The lighting here is completely insane in the best way. If you are looking for a Spooky Town piece to stand on it's own without the need for an entire village around it, look no further than Monster's Ball. Here is my video review.
---
#5 – Box-of-Bones Coffin Factory (2014)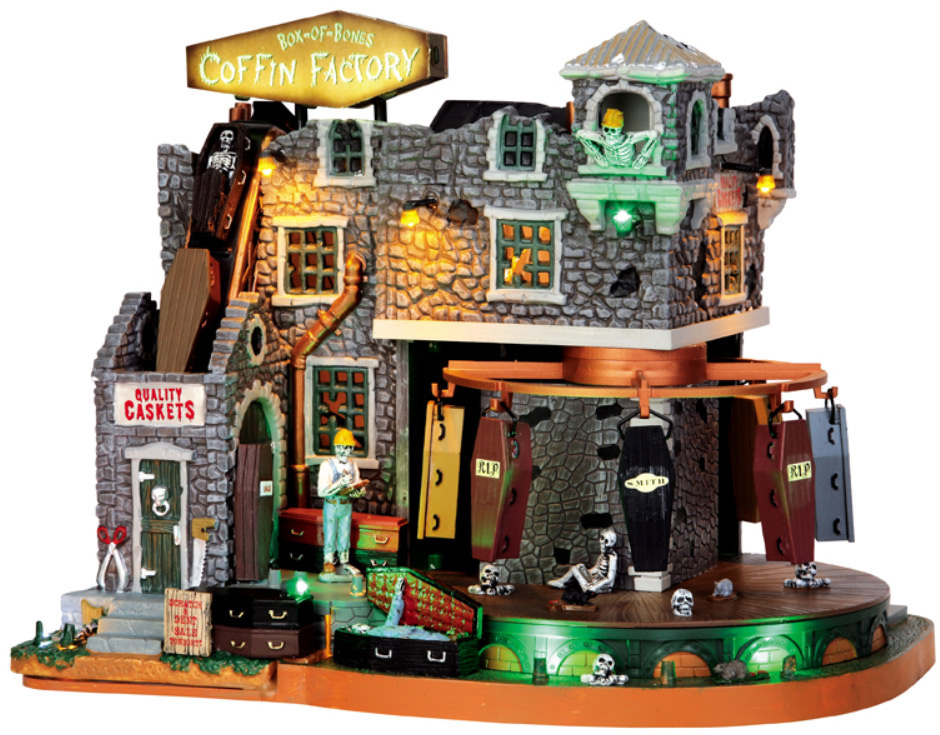 We are now in the top 5, and while the styles of many of these buildings are different, there is a trend that most are following – they are huge! Box-of-Bones Coffin Factory is another biggun'. The most pronounced feature of this piece is the rotating coffin assembly line, with a production manager standing nearby to give his official sign off. The lighting here is also top notch. Sadly, this is one of the buildings on this list that I've never owned. I do plan on nabbing it before long though! In the meantime, here is a video review of the Coffin Factory posted by my buddy and fellow Spooky Town nut Andrew @ Andrewzvideos. You can also check him out on Instagram @ andrewzvideos.
---
#4 – Hemlock's Nursery (2014)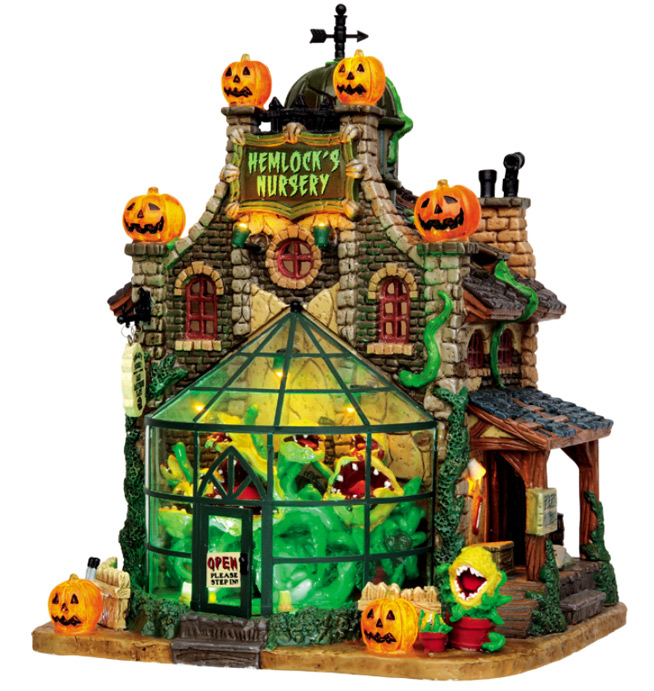 Hemlock's Nursery earns the distinction of being the only piece voted to this Top 10 list without any form of animation. What it lacks there, it makes up for in fantastic theming and lighting. Who doesn't love a Little Shop of Horrors inspired Green House? This retired building has started to become quite hard to find for a reasonable price. That's why I haven't snagged one yet! I was really hoping to add this to my farm scene last year but, alas, it wasn't meant to be. This is one of the retired buildings on my list to review this year. In the meantime, here's a nice video of it, courtesy of the folks @ ehobbystools.com.
---
#3 – Dr. Stretch N. Pull's Torture Factory (2004)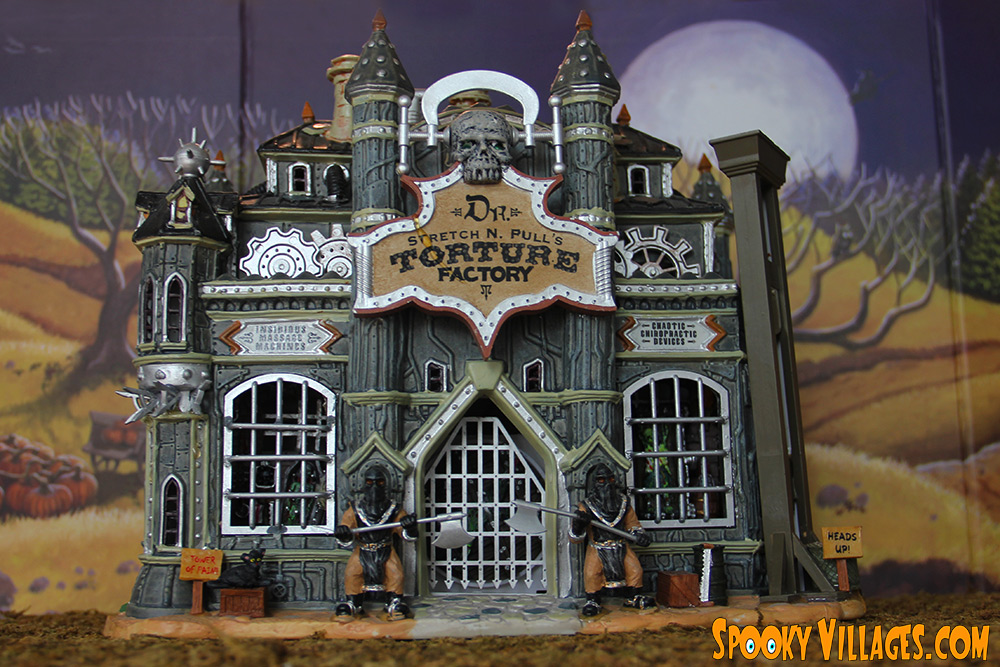 Whenever I try and think of what it is exactly that draws me to Spooky Town, and heck, Halloween villaging in general, I think of Dr. Stretch N. Pull's Torture Factory. It's silly, scary, macabre and a true showpiece. Whirling gears, fiendish torture devices, evocative lighting…it has it all. Early production runs of the building also had a working guillotine! This is a very special part of Spooky Town to me, as it was the first mini-village building that I ever purchased. I blame you, Dr. Stretch N. Pull, for all the money I've spent! If you couldn't tell, this was one of the three selections that I made when I cast my vote. You can read my written review right here, and check out my video review right here.
---
#2 – Rest in Pieces Mausoleum (2005)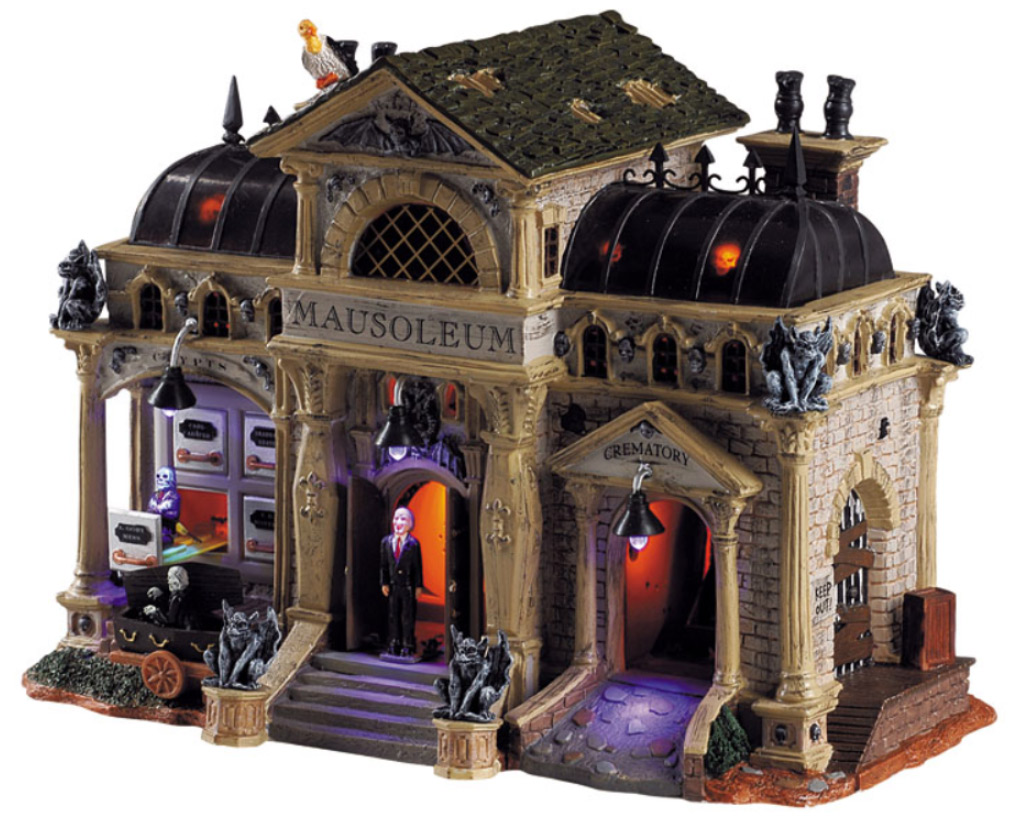 Arguably the biggest and baddest piece that Lemax ever released, the Rest in Pieces Mausoleum was voted #2. This mausoleum has it all – ace detail, vibrant lights, sound and animation. It's a building that's big enough to be a display in and of itself if you don't want to mess with putting a village around it, similar to Monster's Ball in that way. It's become very tough to find these days, even more-so if you want a mint one where all the components work correctly. I have never owned this building, but I did get to see it in person a couple years ago on display at a local pumpkin patch. This is at the top of my list to review later this season on my YouTube channel. In the meantime though, check out the excellent video spotlight of this piece by Cannibal Reviews.
---
#1 – Mad Pumpkin Patch (2017)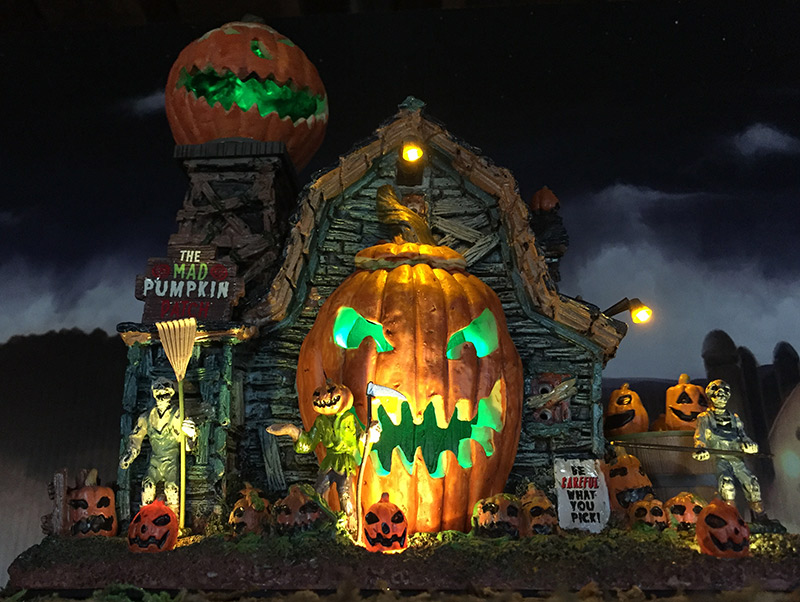 Here we are, the number 1 spot. Some of you longtime collectors may shake your head at a new piece beating out some the classic favorites on this list…and you know what? I actually thought the same thing at first, and that's even with me making it one of my three selections! When votes started coming in and Mad Pumpkin Patch started doing very well, I was worried that perhaps folks were a little too focused on it being the new hotness. I almost disqualified it. You know what happened when I talked to some of my other friends that are involved in this hobby,though? They all said they voted for it as one of their three and that it absolutely should be left on! Fair enough, then.
Ok, now let's talk about the actual building. The Mad Pumpkin Patch was released just last year, and was the absolute star of 2017…and that goes for ALL Halloween village pieces released, even those put out by different companies. Pumpkin patches are my favorite thing about Halloween/fall, and FINALLY someone released a proper haunted version. The building has dynamic lighting, great animation and killer theming. Doing the YouTube thing, I heard from several folks that the MPP pushed them over the edge to finally get started in villaging, and what more could you want? It's one of my favorite buildings and the vote says it's one of yours as well. It took the top spot in our poll! You can watch my video review of it right here, as well as Haunt Former's excellent video on it right here.
---
I want to thank the hundreds of you that participated in this poll, and I look forward to running another one in a couple years to see what changes! Also, special thanks go to Porsha and the entire I Love Lemax Spooky Town group for helping me with this list.
If you enjoy Lemax Spooky Town, please subscribe to my YouTube channel as I have already posted reviews of several of the 2018 ST buildings. I have much more villaging in store as we head towards the season! I also do seasonal candle reviews as well, but once we hit summer it's all Halloween/Fall! You can also find me on Instagram as @spookyvillages or e-mail me at spookyvillages@gmail.com.
Thank you for reading! I can't wait for the haunting season!
-Doug