Department 56 released their 2017 product lineup to distributors today, and there was a good number of new offerings in their Halloween Snow Village Line. It looks like it's going to be a great year!
Lefty's Chain Saw Repair and Lefty's Passion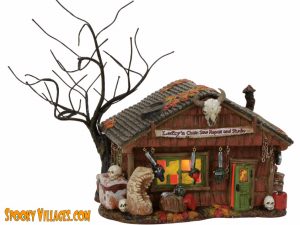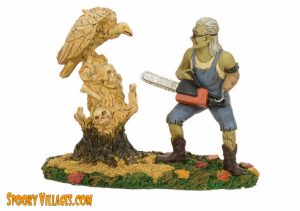 Lefty's Chain Saw Repair is probably my favorite of the buildings. I'm a sucker for chainsaws during Halloween, and given how popular they are in both pop culture and at the local haunts, it's surprising that they are an underused theme in the world of mini-villaging. The only piece before Lefty's that comes to mind is the Lemax "Chainsaw's Lumber Yard". Anyways, the building looks boss. I love the dangling saws! Lefty looks great as well.
Lit Graveyard Ghost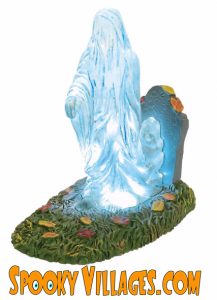 This has to be one of the coolest figurine pieces I've ever seen. This ghost will be amazing in graveyard scenes!
Hattie's Hat Shop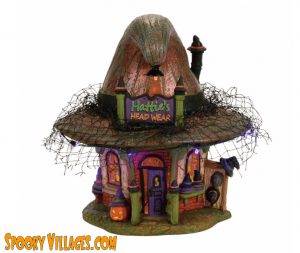 The Witch Hollow series is a popular one that sees a release each year. This year's is one of the best methinks. A hat shop! The texturing of the wiry veil looks really cool coming off the brim.
The Skeleton House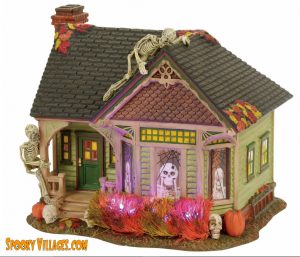 The Skeleton House is part of the Trick-Or-Treat Lane series, and out of the themed lines it's probably my favorite. I just love the traditional "decorated neighborhood" vibe that it gives off.
Bat Hotel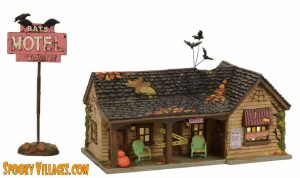 I'd wager that the Bat Hotel will probably be the top seller for Department 56's Halloween offerings this year. It looks fantastic and is an obvious homage to the infamous Bates Motel from Psycho. The details look great, particularly the included sign.
The rest of the releases
As you can see, there are several more pieces being released for 2017. There is a lot to like here and I believe this is their strongest overall lineup in several years. It should also be noted that there is no new Haunted Rails train car announced yet, but that will probably happen mid-year.
So, what's your favorite?