Starting your own Halloween village can be a very intimidating endeavor. It's easy to look at some of the extravagant displays found on the internet and think "Why should I even bother? I'll never have enough money, time, and/or skill to do something that looks that cool."
I know that feeling first hand, as that's how I felt the first couple years after discovering that Halloween villaging was a thing. Despite enjoying the annual display at a local pumpkin patch, as well the fun of watching YouTube video displays, I was always hesitant to get involved myself. This was a big mistake!
There are very few things that I've come to enjoy more than a cool fall night while taking in the spooky ambiance of a Halloween village. If you're reading this, I'd guess you either do, or will, feel the same way!
You don't need a gigantic display that costs thousands of dollars to have a good time. In fact, the vast majority of hobbyists just have a small setup on a shelf, counter, or table. My first display (seen above) was small, but I still loved it! Heck, even now that I've been at it a good number of years and have a pretty decent collection of pieces, my main display is still small-ish! (You can see my 2017 Haunted Pumpkin Patch display right here) Don't think that you have to have a massive display to enjoy the hobby….although if that's your goal, yeah, those can be absolutely incredible.
My personal story aside, here is some information that I think would be helpful to noobs.
Lemax vs. Department 56
One of the most asked questions from new villagers is "What is the difference between Lemax and Department 56". Let's talk about that first.
Lemax Spooky Town – Lemax is probably the most popular company when it comes to Halloween villaging. They started doing Spooky Town in the early 2000's. Their wares can be had each year at Michaels stores from late July through October. Just as an FYI, Michaels typically releases Spooky Town the third week in July and usually sells out by late September/early October. Menards is another physical retailer that carries the line in the Fall, so be sure to check your local stores around then! Of course, there are also a myriad of places online that you can buy like ehobbytools and Gift Spice.
Spooky Town buildings, particularly the big ones, are known for having vivid lights, sounds, and animation. They are also relatively affordable as most of the buildings go from $25-$80 (either using a Michaels coupon or from an online retailer). Construction and paint quality ranges from decent to great. While scale does vary slightly, on the whole the Spooky Town buildings are typically larger than Department 56 but the figures are a bit smaller, keeping more in scale.
Department 56 Snow Village Halloween – Department 56 have been doing Christmas village buildings since the late 70's, but they've also had a popular Halloween line-up since the late 90's. These buildings can be had at many specialty retailers year round, but they typically release the new year's collection late Spring to early Summer. There is also a Halloween mid-year collection that releases around September.
Quality paint jobs are the name of the game as the fit and finish of D56 product is typically superior to all others. That comes at a cost as they are expensive- most buildings retail for around $70-$130. Some of the gift sets or licensed pieces can go higher than that. While some of their offerings feature animation and special lighting, the majority are static and are lit up from the inside by light bulb (that is changing in recent years though, as many now feature more extravagant lighting). The buildings are usually slightly smaller than similar Lemax offerings, but the figurines are more detailed and bigger in size.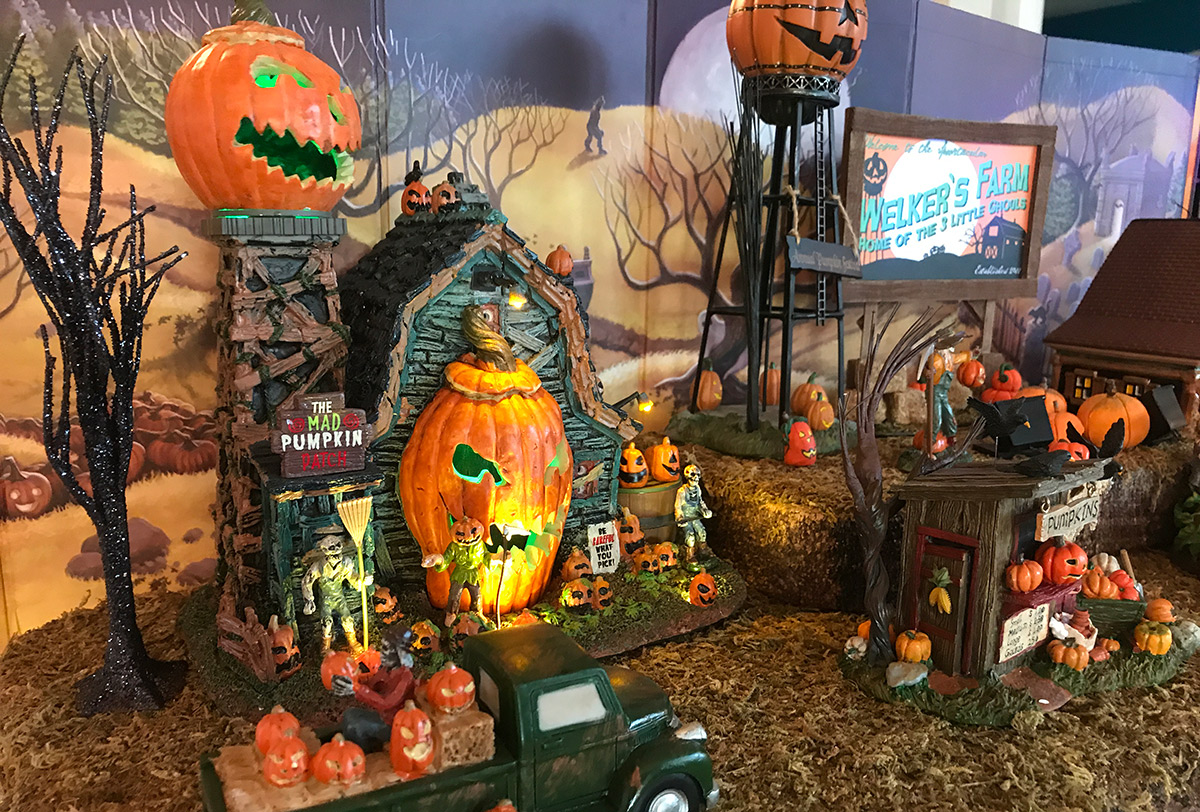 While their are purists that only collect one specific company, you can absolutely mix and match between brands. The pic above from one of my displays showcases wares from four companies as well as some things that I custom made.
I completely recommend mixing because if you don't, you're missing out on some spectacular offerings!
Retired Pieces
You will hear the term "retired" thrown around in miniature village circles, but what does that mean? It's simple- it means a given piece is no longer in production. Both Department 56 and Lemax typically only produce any given building/accessory for a couple years before retirement. Some items are limited to a single year, others can stay in production for over a decade. This is why some buildings can be had everywhere and others are impossible to find.
Notable Other Brands
Hawthorne Village
Hawthorne Village, sold by the Bradford Exchange, is another option. I don't have much experience with this brand, but from talking to other folks that do, their pieces are usually smaller in size. They sell their buildings/figurines in subscription plans, where they release a collection in various installments.
Crypt 31
Crypt 31 is a very new brand to Halloween villaging, having just launched in 2017. Their buildings are built by hand and are extremely limited in quantity. I picked up one of their releases last year and was very impressed with the quality. They plan to launch the 2018 collection in late July. You can check them out here.
Village Vignettes
Village Vignettes specializes in both detailed display platforms as well as custom built village accessories. They do commissioned pieces and I can personally vouch for them (the billboard in my farm display pictured above was done by them)! They also post some great how-to info on the topic of creating your own platforms. You can find them on Facebook here.
Landscape Displays
Landscape Displays does display platforms as well amazing-looking village backdrops. I have one of their large backgrounds and they do great work. You can find them here.
My Village Holiday Village Accessories
My Village offers one type of product, but it's a great one – expandable/collapsible backgrounds. I have been using these for several years now and they are fantastic! You can find their site here.
Start With A Specific Building or Theme
The best advice I can give to someone starting out is get one particular building that tickles your fancy and start from there. Using my example at the top of this page, a Dr. Stretch & Pull's Torture Factory was where I started. I had a tiny display that I really enjoyed. I then just went from there, picking and choosing.
However, I actually got a bit carried away and for a year or two just bought as much as I could. I wound up getting overwhelmed and did a big collection downsizing sell-off. After that, I decided to just focus on collecting farm and neighorhood buildings. I've been enjoying the hobby much more since then!
So yeah, it's my recommendation that when you want to start, you are probably best off to pick a specific theme you like and go from there. There are many specific styles you can go with, amusement park, neighborhood, businesses, ghost pirates, mummy/egypt, old west, farm, etc. From there you can branch out if you'd like, but in the meantime you'll have a nice thematic base of accessories to start out with.
Use Michaels Coupons
If you are purchasing from Michaels without a 40% or 50% off coupon,  you are throwing away money! Signing up for Michaels' e-mail newsletter is a valuable thing to do as they are constantly offering discounts. So much so that you should never pay retail! I'm no company shill and dislike junk e-mail as much as the next guy, but seriously, you are doing yourself a disservice to not sign up. You can also just visit their website to print off a coupon, but many times the e-mail offering is actually better.
Be Wary of eBay
If you are looking for the best prices on village pieces, it's rare that you'll find them on eBay. While good deals can be had, you are usually better off buying new at a regular online retailer if the piece is still in production. Another great place to look for deals are all of the Facebook groups out there devoted to villaging. Craigslist is another resource, as many times collectors will sell out and you'd be shocked at what you can find local from time to time. My biggest scores have all been from CL. However, if you are looking for a very specific retired piece, eBay may be your only option. In that case, best of luck!
Don't Overthink It & Have Fun!
If you love Halloween and think that miniatures look cool then you'll have fun, no matter what. Ultimately there is no right or wrong way to get in…just make sure you that do get in. This hobby is so much fun!
Whether you want to display one building on your mantle or carve a massive custom layout out of foam & wood, chances are that you'll have a blast doing it and be angry that you didn't get involved sooner!
There has also never been a better time to get involved, as 2018 is going to feature an incredible line-up of buildings and accessories from both Lemax and Department 56.
Good luck and Happy Haunting!
Also, if you have any specific questions feel free to e-mail me at spookyvillages@gmail.com and I'll do my best to answer!